As postagens são traduzidas em iorubá, espanhol, português e inglês. Las publicaciones están traducidas en yoruba, español, portugués e inglés. Posts are now translated in Yoruba, Spanish, Portuguese, and English. Ifiweranṣẹ ṣe itumọ ni ede Yoruba, Spanish, Portuguese, ati Gẹẹsi.
English
"The Emancipados of Plymouth" illustration – What do you see in the image? Take a closer look.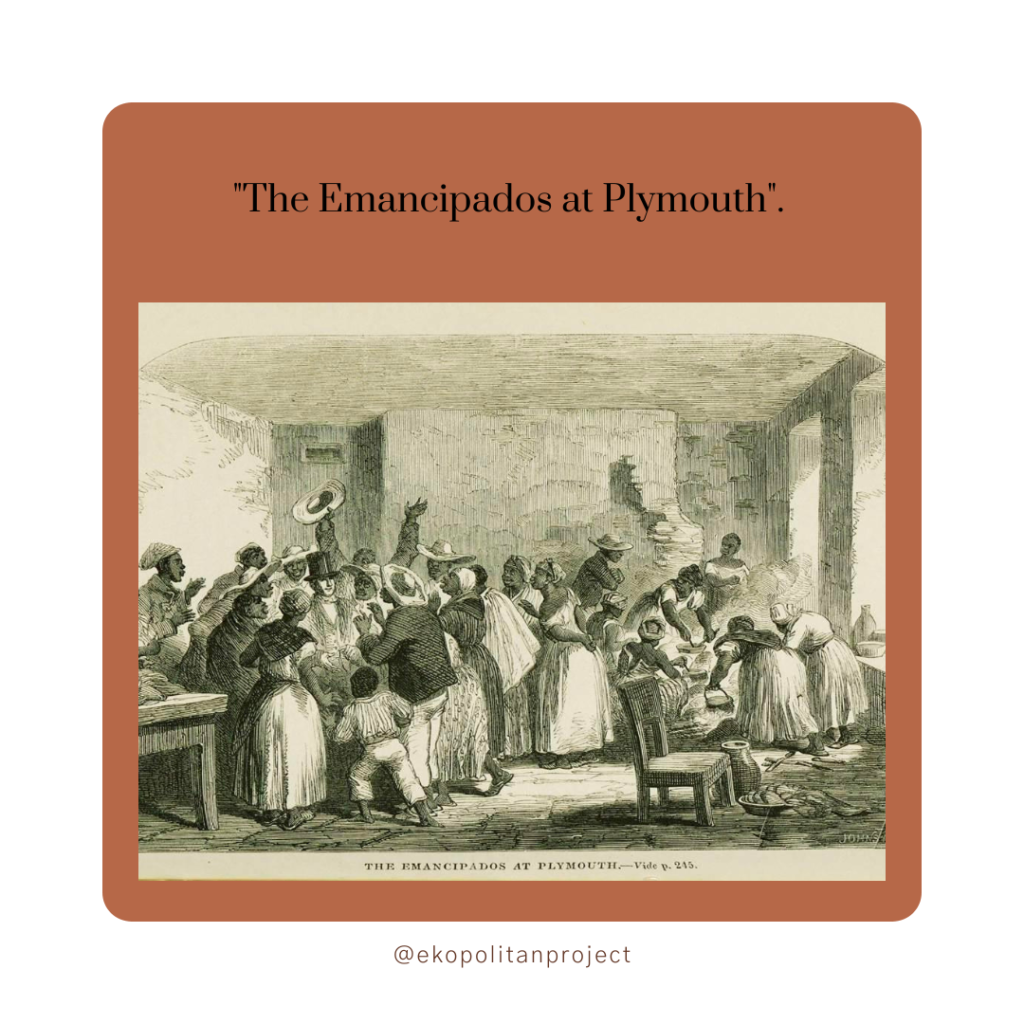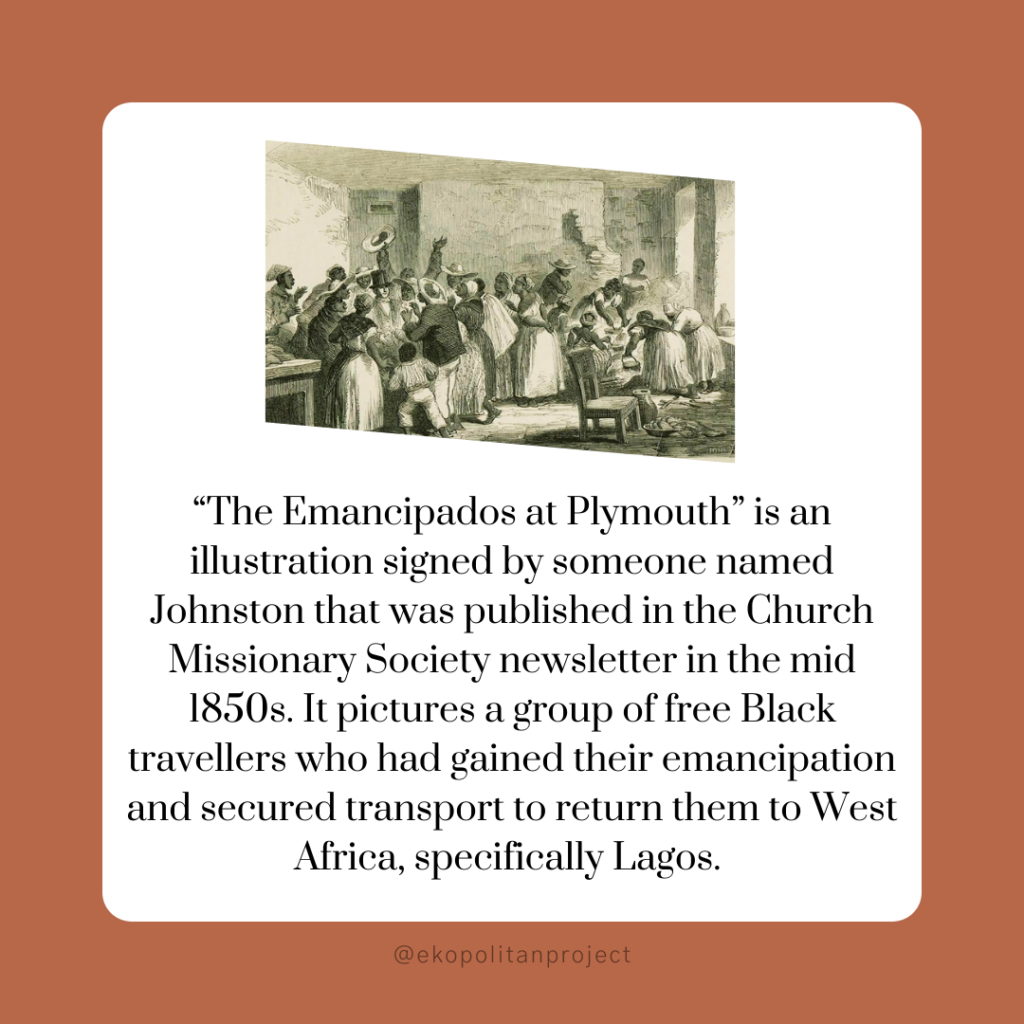 "The Emancipados at Plymouth" is an illustration signed by someone named Johnston that was published in the Church Missionary Society newsletter in the mid-1850s.  It pictures a group of free Black travelers who had gained their emancipation and secured transport to return them to West Africa, specifically Lagos.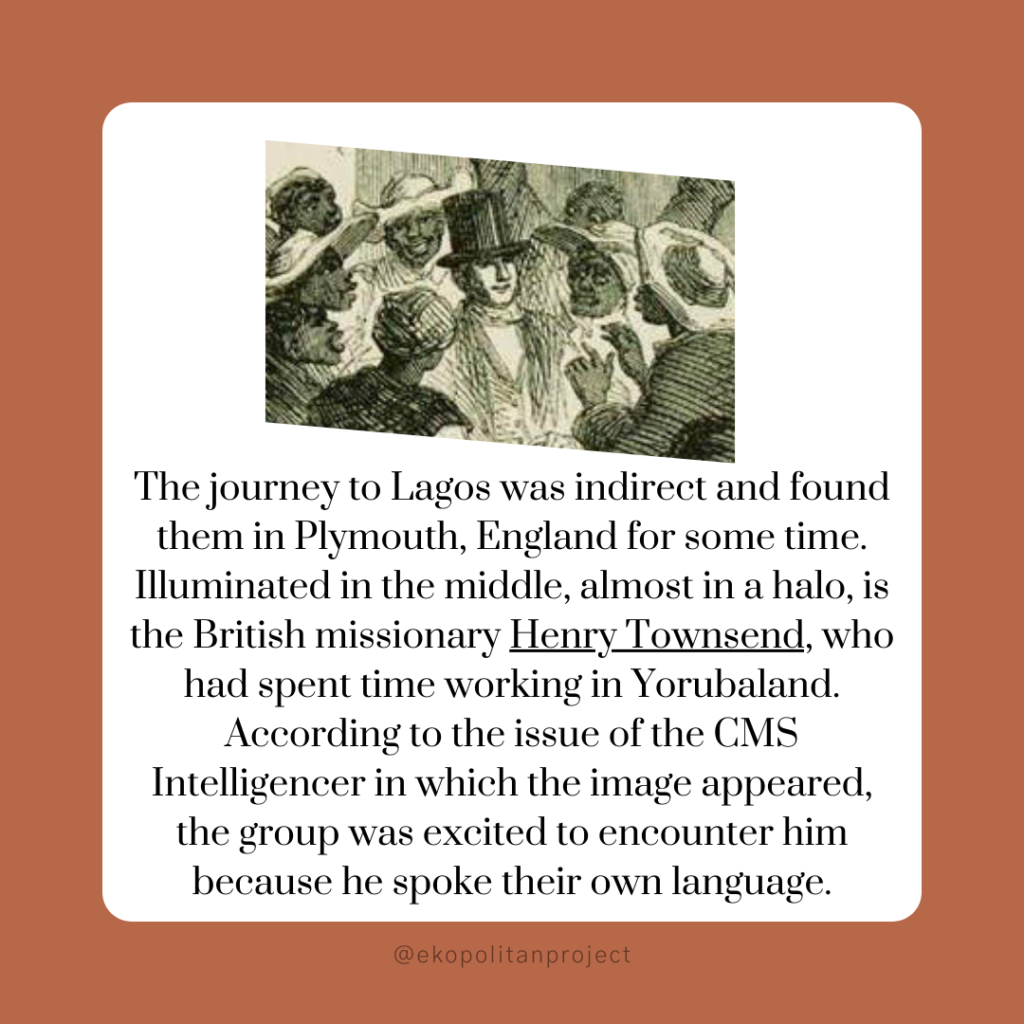 The journey to Lagos was indirect and found them in Plymouth, England for some time.  What do you see in this image?
Transatlantic voyages in the 19th century could take a couple of months to complete. How did people live en route? How did they eat? What did they eat? Who did the cooking?
A child looks on at the adults. Whose child is he? What does this voyage mean to him? What thoughts are going through his mind?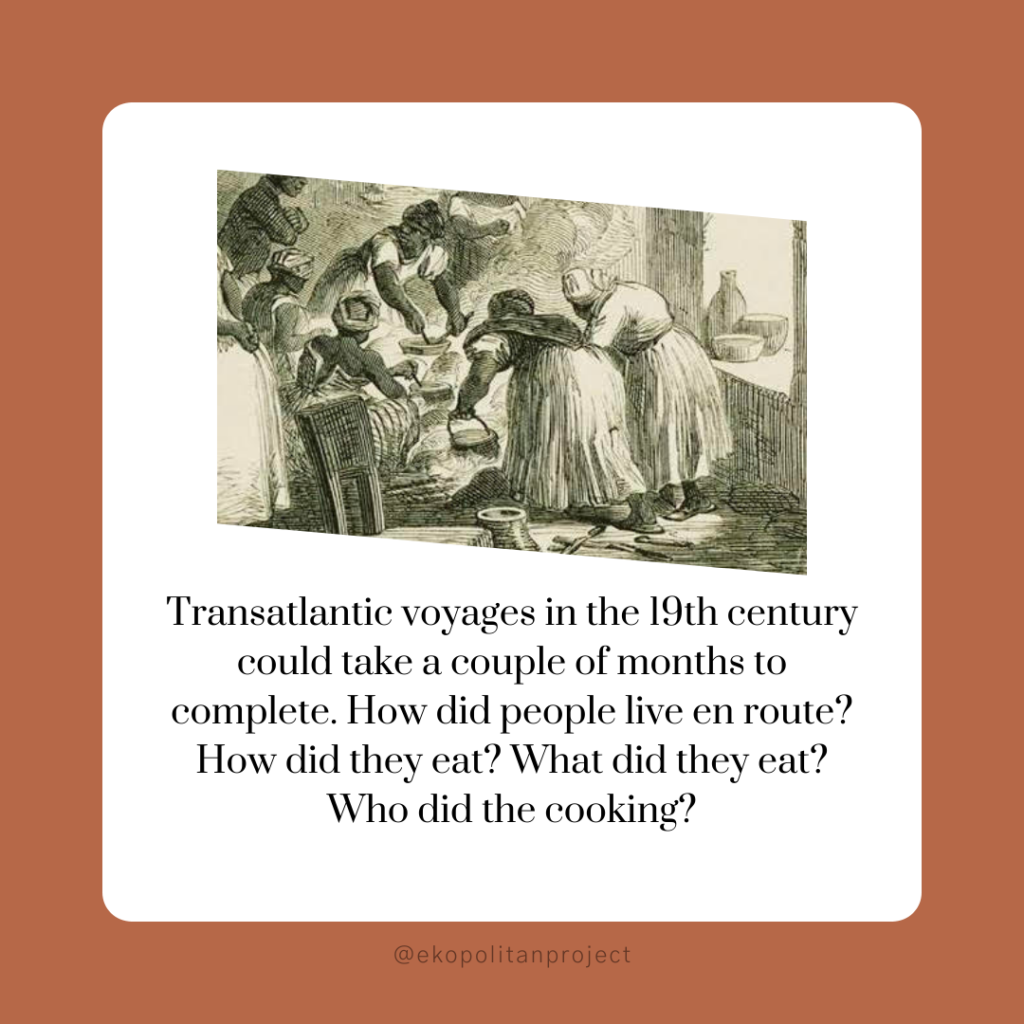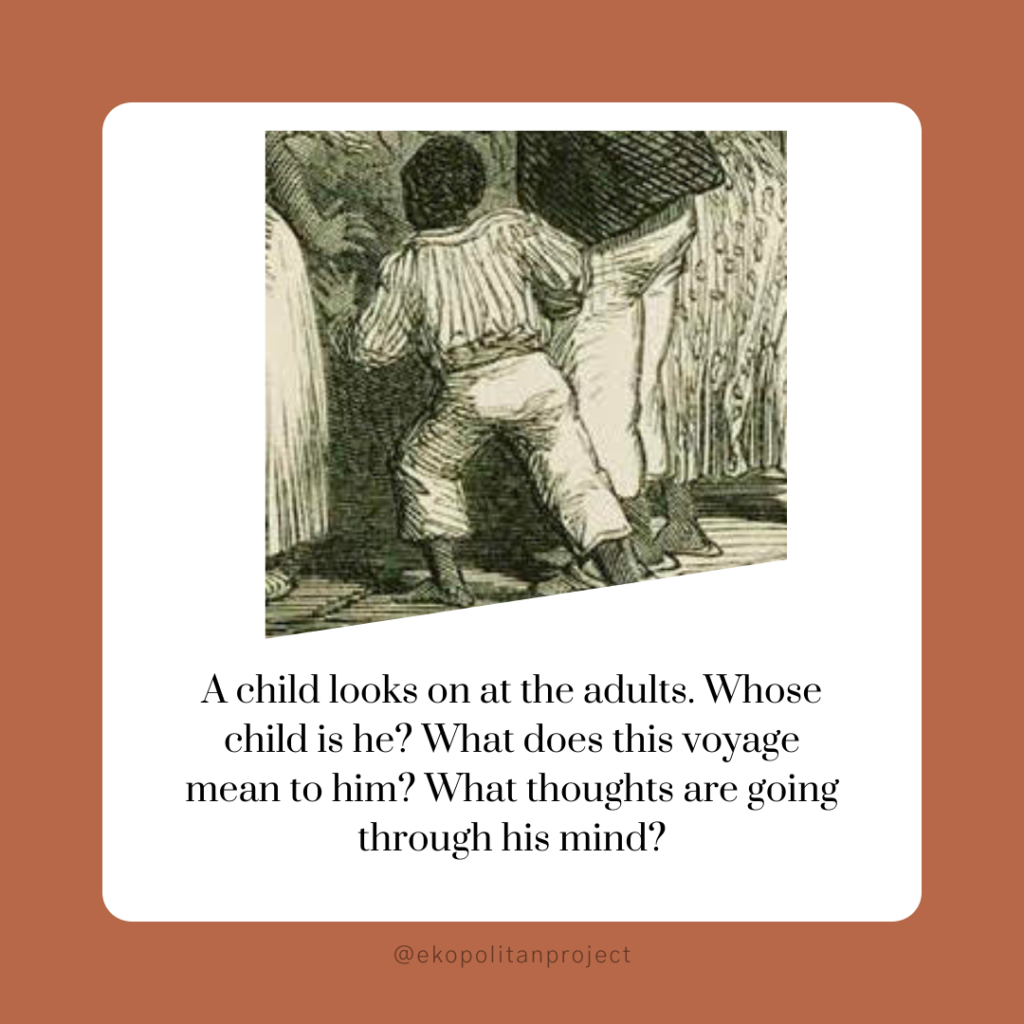 Portuguese
Ilustração "Os Emancipados de Plymouth" – O que você vê na imagem? Olhe mais de perto.
"Os Emancipados em Plymouth" é uma ilustração assinada por alguém chamado Johnston que foi publicada no boletim da Church Missionary Society em meados da década de 1850. Ele retrata um grupo de viajantes negros livres que obtiveram sua emancipação e garantiram transporte para devolvê-los à África Ocidental, especificamente Lagos. A viagem para Lagos foi indireta e os encontrou em Plymouth, na Inglaterra, por algum tempo. O que você vê nesta imagem?
As viagens transatlânticas no século 19 podiam levar alguns meses para serem concluídas. Como as pessoas viviam no caminho? Como eles comiam? O que eles comeram? Quem cozinhou?
Uma criança olha para os adultos. De quem ele é filho? O que essa viagem significa para ele? Que pensamentos estão passando por sua mente?
Spanish
Ilustración "Los Emancipados de Plymouth" – ¿Qué ves en la imagen? Mira más de cerca.
"Los emancipados en Plymouth" es una ilustración firmada por alguien llamado Johnston que se publicó en el boletín de la Sociedad Misionera de la Iglesia a mediados de la década de 1850. Retrata a un grupo de viajeros negros libres que obtuvieron su emancipación y aseguraron el transporte para regresarlos a África occidental, específicamente a Lagos. El viaje a Lagos fue indirecto y los encontró en Plymouth, Inglaterra durante algún tiempo.¿Que ves en esta imagen?
Los viajes transatlánticos en el siglo XIX podían tardar un par de meses en completarse. ¿Cómo vivía la gente en el camino? ¿Cómo comieron? ¿Qué fue lo que comieron? ¿Quién cocinaba?
Un niño mira a los adultos. ¿De quién es hijo? ¿Qué significa este viaje para él? ¿Qué pensamientos pasan por su mente?
Yoruba
Apejuwe "Emancipados ti Plymouth" – Kini o ri ninu aworan naa? Ya kan sunmo.
"Emancipados ni Plymouth" jẹ apejuwe ti ẹnikan ti a npè ni Johnston fowo si ti a ṣejade ninu iwe iroyin Society Missionary Society ni aarin 1850s. O ṣe apejuwe ẹgbẹ kan ti awọn aririn ajo dudu ti o ni ọfẹ ti wọn ti gba itusilẹ wọn ti wọn si ni aabo ọkọ lati da wọn pada si Iwọ-oorun Afirika, pataki ni Eko. Irin ajo lọ si Eko jẹ aiṣe-taara o si rii wọn ni Plymouth, England fun igba diẹ. Kini o ri ninu aworan yii?
Awọn irin ajo Transatlantic ni ọrundun 19th le gba oṣu meji diẹ lati pari. Bawo ni eniyan ṣe n gbe ni ọna? Báwo ni wọ́n ṣe jẹun? Kí ni wọ́n jẹ? Tani o ṣe ounjẹ naa?
Ọmọde wo awọn agbalagba. Omo ta ni? Kí ni ìrìn àjò yìí túmọ̀ sí fún un? Àwọn èrò wo ló ń gba inú rẹ̀ lọ?
#ekopolitanproject #africanarchives #africanhistory #nigerianhistory #history #Lagos #Eko #AfricanHeritage #LagosHistory #africandiasporas #familyhistory